The "Starfish Retrospective" is a model for reflection that has been around on the Internet since the before times. None of them, however, are quite so beautiful as the Starfish WAO member Bryan Mathers drew. This technique allows you to reflect (and plan!) in various degrees of nuance.
---
We use the Strategic Starfish in a variety of ways. Not only is it useful as a retrospective tool, you can use the technique as a way to team build, facilitate focus and to set strategy.
Member Bryan Mathers drew our friendly Strategic Starfish years ago, and we've adopted the method in our monthly co-op days and in our work with clients and communities.
Using a Jamboard or a white-boarding app (like Mural or Miro), we use the Starfish to help people reflect on what they do and what they want to do. Click here to access a template that you can make a copy of to use in your own planning sessions.
Target group: project teams or teams of any kind
Time: 50-60 mins
Material: Jamboard template
Goals: Reflect on areas of work and set new paths and strategies
Use the Starfish to do a retrospective for a project, to build cohesive teams, to create focus or to figure out what to do next. Have each team member add post its and thoughts to the following five areas:
Keep Doing – What are all the good things about the project or team or work in general? What do people like to do or what do they like about the way things are?
More of – What are some of the things people want to do? What are the practices or methods that people enjoy?
Less of – What isn't helpful to the team? Which bits of the work are distracting or annoying, but still required? What are some of the problems that don't have clear solutions?
Start Doing – What are the ideas that might make things more enjoyable or profitable? What could be done to solve problems or create momentum?
Stop Doing – What are practices or behaviours that don't belong in the team or project? What methods or tasks might be dropped completely?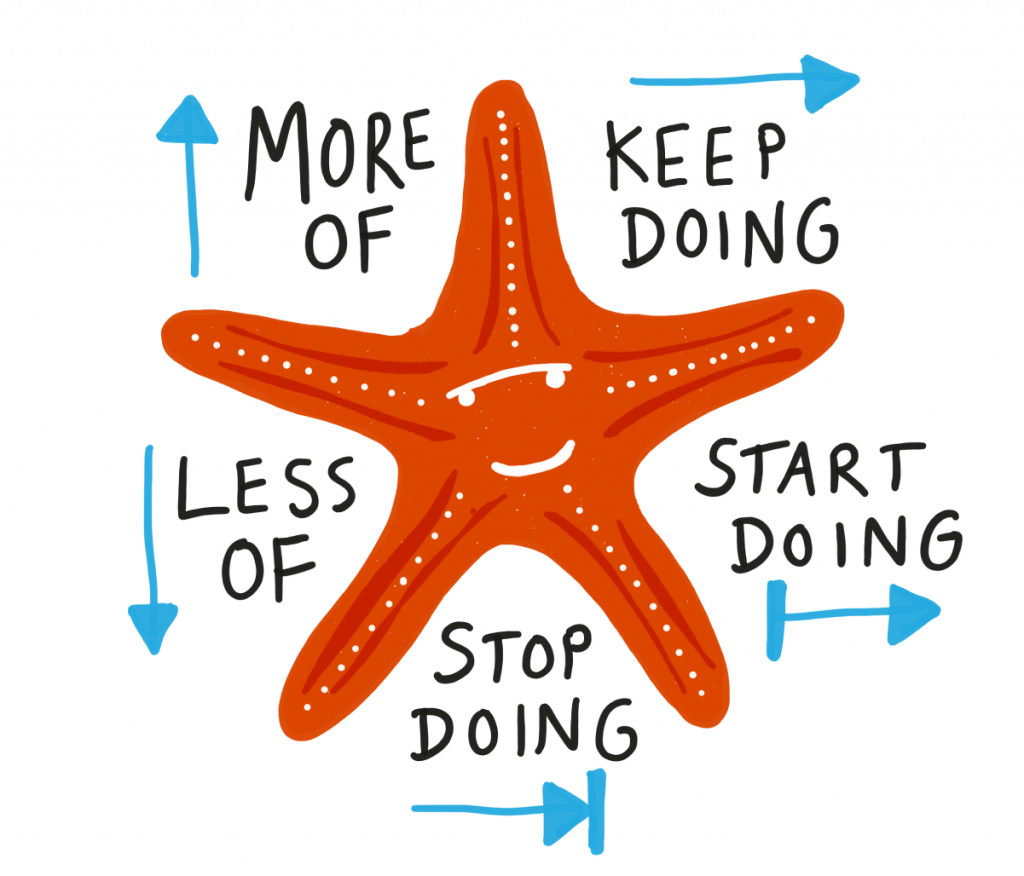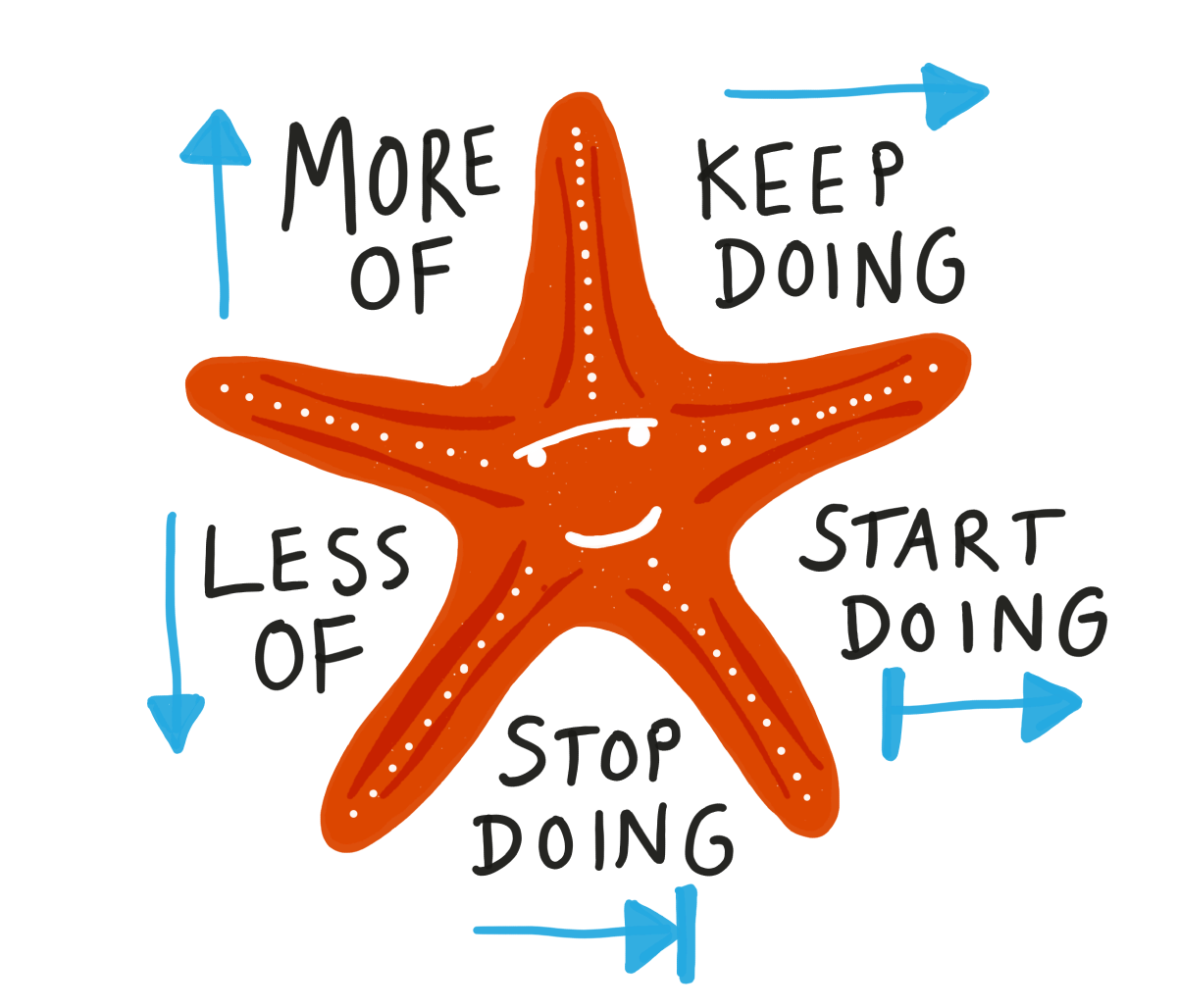 To use this template, do the following:
Create your own copy of the template and ensure that everyone can edit who needs to be able to add content
Ensure that everyone knows how to use Jamboard by going through the basic controls. You might ask participants to choose different colors of sticky notes so that everyone knows who wrote which notes. Or you might wish to keep things anonymous!
Either (a) go through each of the sections one-by-one and have a discussion about them, or (b) spend some time 'silent Jamboarding' where everyone can place as many sticky notes on the template as they wish. When the rate of new sticky notes slows, give everyone 30 seconds longer.
If you're going through one-by-one, ensure that you 'time box' how long you spend on each section. If you've done some 'silent Jamboarding', now go through each section one-by-one and have a discussion.
Give everyone a few minutes to read through the sticky notes. You can also have people "+1" other sticky notes they agree with.
Facilitate a discussion to discuss each section. You might wish to schedule it in a future session once people have had a chance to reflect and digest.
Take notes and make decisions about how to implement the team's suggestions.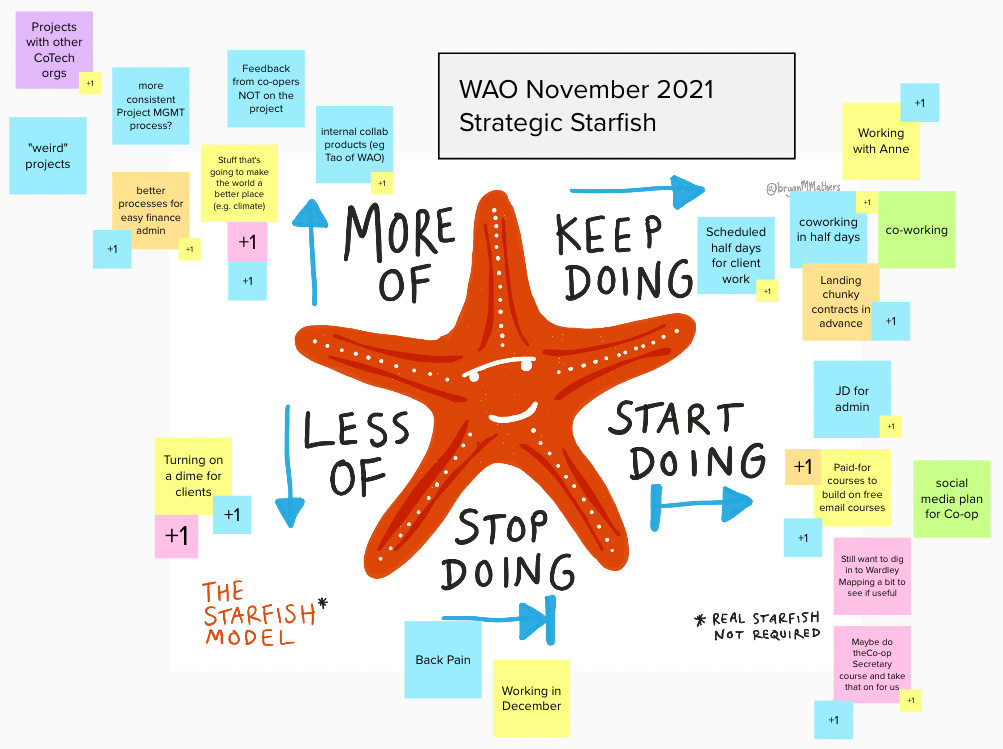 The above image shows a Strategic Starfish for the November 2021 WAO Co-op day.
Next steps are up to you, but given that it's likely you're doing this activity with your team, you may want to share how it went? What ideas came from this activity that were new or surprising?
Click here to access the Strategic Starfish template for Google Jamboard